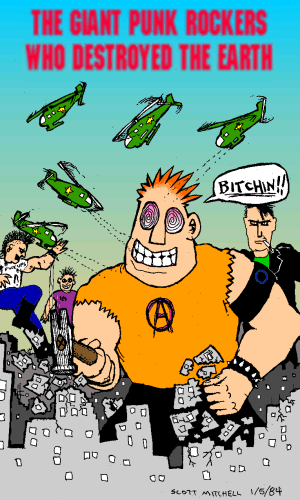 Part 2, 1980 & 1981
1980 and 1981 were a period of transition for punk. The original day-glow, pogo dancing punk was pretty much dead, and the next wave, hard core punk was just starting to evolve.

Many of the icons that had defined 70's punk, were gone. The Sex Pistols had broken up, Darby Crash was dead. Important local clubs like the Masque, Starwood, and Cuckoo's Nest were closing up one after another. Punks were saying that mega-popular bands like the Clash and X had sold out, and many of the original generation of L.A. bands were breaking up or had ceased to play.

Punk culture no longer shocked your Mom and Dad. In the early days punk was like an inside joke or a secret club; most of your fellow Americans knew nothing about punk music, clothing and attitudes. By 1981, almost everyone understood the joke.

The mass media was starting to learn that they could take punk's outsider attitude, water it down and sweeten it up, and then cram it down the public's throat like a hamburger commercial. Examples were everywhere; pretty-boy post-punk bands like Duran Duran and Culture Club, movie stars and newscasters with trendy spikey haircuts, and pre-torn safety-pinned mall clothes for the instant punkaroo.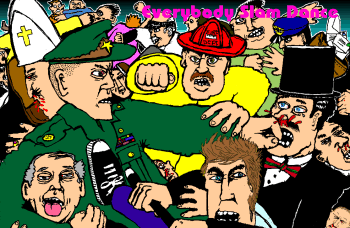 When mainstream America finally showed up at the party, many of the original punks bailed out, and Punk was split off into several different subcultures; reggae, ska, nu-ro (new romantic), rock-a-billy and "college-rock" (now they call it "Alternative".)

As pogo punk culture was co-opted and diluted, die-hard punks were forced to move closer to the extreme edge. As a result, "hard core" punk was born. Early punk's playful pogo dancing, safety pins and spitting were gone; replaced by faster, angrier music, slam dancing and creepers.

Of course this didn't happen over-night. It took a while; and 1980 was just the beginning.



Early 1980
Agent Orange, John Doe
Ichabod's, Fullerton
$4
I can't remember anything about John Doe, except that it wasn't the John Doe from X. Agent Orange put on an incredible show, climaxed by one of the most impressive displays of meaningless destruction I have ever seen. There was a chaotic slam pit on the tiny dance floor in front of the stage. The bouncers didn't seem to know what to do about it, so they started grabbing anyone who was slamming, and throwing them out of the club. This kept the bouncers so busy, that they didn't notice that most of the people who had been thrown out simply went around to the other entrance and snuck back in.

At the end of Agent Orange's set the crowd went wild, so the band came back and did their (then) hit "Blood Stains" as an encore. At the end of the song, Mike Palm suddenly wailed his Fender Telecaster over his head, and smashed it on the stage Pete Townsend style. Later, a friend of mine asked Palm why he did it, and he said "I don't know, I just got carried away". Apparently this was his only guitar, and they couldn't play another gig for about a month until he was able to scrape together the cash for a new one.
Early 1980
The Plugz, Jimmy & the Mustangs, Middle Class
Cuckoo's Nest, Costa Mesa
$4
There was a small audience that night, but the Middle Class put on a great show none the less. The Middle Class were a Fullerton band who never got the attention they deserved. They released one of Orange County's first punk singles ("Out of Vogue") and were constantly playing gigs in L.A. and O.C. Their early sound featured sarcastic lyrics shouted over jackhammer guitar rhythms, but by this show they had developed a slower, disonate sound that was almost psychedelic.

It was not uncommon to see punk gigs that also included non-punk bands like rockabilly or reggae acts. Jimmy & the Mustangs were the token rockabilly act that night. They played revved-up covers of fifties music like Carl Perkins and Gene Vincent, along with a few of their own original tunes.

The Plugz always put on an entertaining show. I must have seen them play at twenty different gigs, but I never got tired of them. They usually played more or less the same material each show, but they always played with such conviction that the songs didn't get old.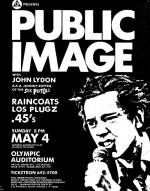 5/4/80
PIL, The Plugz, Some Mariachi band, The Kipper Kids
Olympic Auditorium, Los Angeles
$8.50
A truly unforgettable evening. This was PIL's first American Tour, and the first time that punk acts appeared at the Olympic Auditorium, which had previously hosted only boxing, rollerderby, and wrestling. The Olympic was a huge cave like auditorium, with an interior that looked something like a bombed-out parking structure; unpainted concrete walls and not much light.

The whole line-up that night seemed specifically designed to challenge and piss-off hard core punks.

The opening act, The Kipper Kids, were not a band, but a performance art act. The Kipper Kids were two middle age guys who came out on stage naked or nearly naked (except for massive rubber noses), and did what ever it took to offend and enrage who ever was watching. At this show, one Kipper Kid waved his weener at the audience, threw firecrackers and flour at the front row, and shot off a fire extinguisher at every one he could reach. While this was going on, the other Kid was slapping himself silly with a pair of boxing gloves and shooting paint all over himself and the stage. By the end of the act, a line of bouncers had to physically restrain several paint and flour covered punks from getting on the stage and killing the Kipper Kids.

The next act was a mariachi band, not a punk-mariachi band, a real mariachi band, like you might see in one of your finer Mexican restaurants. Punks in the audience hated them. But even though they were being showered with spit and trash, the mariachis bravely played their hearts out. After about a fifteen minute set, they quickly left the saliva covered stage.

The Plugz were next, playing a longer than usual set that included material from their second album. Although they were greeted by a shower of spit from the audience, it didn't seem to bother them, they just smiled and spat back with enthusiasm.

After an overly-long break, PIL finally took the stage. The band included Jah Wobble, Martin Atkins and Keith Levene, and they played most of their first album and "Second Edition"; echoey bass-heavy experimental music with stuttering middle eastern guitar.

Punks in the pit kept screaming for Sex Pistols numbers, but PIL refused to play any old songs. Johnny Lydon scolded the pistols-hungry punks, telling them that this wasn't 1977, and that they were living in the past. A couple of songs later, Lydon got pissed off again at the rain of flying loogies, and at more than one point, threatened to walk off stage if they didn't knock off the spitting.

Both the music and the goober shower continued, and by the end of the show, the stage was a lake of spit and snot.
Mid 1980
Top Jimmy and the Rhythm Pigs, The Blasters
American Bandstand, Santa Ana
$3
American Bandstand was located in an old Food Giant store on Main Street in Santa Ana. Like many clubs from this era, it has since been torn down and replaced by a mall. In this case, Santa Ana's wannabe upscale yuppie mall, "Main Place".

The warm-up band, The Blasters, put on an extremely entertaining show. I wouldn't call their music "punk", but in those days clueless rock critics and newbee new-wavers often classified them as punk. Any new band that looked or felt a little bit different was lumped into the same general category as FEAR and the Germs. That night, they played their usual mix of rock, country, folk, and R&B while neo-wavers and their dates danced politely on the club's raised lighted dance floor.

Top Jimmy and the Rhythm Pigs were a legendary L.A. band known for their original mix of punk and blues, and Jimmy's out of control personality. As they launched into their opening number, Jimmy stumbled on to the stage, took one look at the neo-wavers on the lighted dance floor, and started scowling like he smelled something really bad.

Throughout the second number it was apparent that something was bugging Top Jimmy. In the middle of their third number, Jimmy suddenly threw down the microphone, and walked off the stage in disgust. That was the end of the show; maybe Jimmy didn't like lighted disco dance floors.
Late 1980
Alleycats
Ichabod's, Fullerton
$4
I arrived late and missed the warm up band; no clue who it was.

The Alleycats were a veteran L.A. punk trio. They had been part of the original explosion of great bands that came out of the L.A. punk scene in 1977 and 1978. Both their sound and look were a little bit different from most other L.A. punk bands; they were punks, but there was this slight hint of biker / Steppenwolf attitude.

Diane Chai sang and played bass guitar. Her hair was a big, black tangled beehive, and she usually wore black leather miniskirts with torn fishnet stockings. Her husband, guitarist Randy Stodola wrote most of their material and shared singing duties. They seemed to change drummers every three or four gigs.

Their set featured material from their early Dangerhouse singles "Give Me a Little Pain" and "Nothing Means Nothing Anymore", as well as new material from their soon-to-be-released (at that time) album. After the show, I tried to talk to Diane Chai while she was putting her bass away, but all I could come up with was something like "You guys were reely good!".
Early 1981
Wall of Voodoo
Ichabod's, Fullerton
$4
Wall of Voodoo was an L.A. band, made up of former members of the Skulls and the Eyes. One of their tunes, "Mexican Radio", had been a huge hit on local L.A. rock station KROQ. The club was packed with a mixture of punks, college kids, and other people who just had heard the band's single on the radio.

Ichabod's was my favorite Fullerton punk hangout; a tiny, smoky club with a bad sound system and cheesy barn-style decor, but they often booked great bands that could potentially fill much larger clubs. A one-foot high stage, and pool table sized dance floor ensured an "intimate" atmosphere.

Wall of Voodoo played an incredible set of harmonica injected, synthesizer driven punk backed by herky-jerky egyptian rhythms. The band was still around in the early 90's with a different line up, but that night it included founders Stanard Ridgeway and Mark Moreland.
Early 1981
Rebel Rockers, Delphonics
The ON Club, Silverlake
$6
This was not a punk gig, but a couple of reggae bands in a cool little club in L.A.'s Silverlake district. I can't remember which was which, but I believe that one of these bands were local guys, and the other one was from Jamaica. Both bands played a good mixture of slow lopey dub-tunes and faster pop reggae, while punks, mods, and rastas danced and smoked home-made cigarettes.
Mid 1981
Kommunity FK, The Brainiacs
The ON Club, Silverlake
$6
Back to the ON Club again. The Brainiacs opened with an entertaining set of R&B/blues/funk flavored punk. They looked like they were trying too hard to be the blues bros. (pork-pie hats, sunglasses, beatnik clothes), but their music really rocked. Their spastic lead singer, Wyzata Cameron also played sax and harmonica and jumped around like he was high on goofballs or something.

I'm not sure how you would classify Kommunity FK, they looked kind of nu-ro or goth; jet black spikey hair and lots of black eye-shadow. Their music was an enthralling mess of echoey atonal feedback guitar, dark lyrics and throbbing psychedelic drumbeat, but you could dance with girls to it too. A wall of screeching noise that made great background music for the ritual bohemian activities of the small mob of punks and nu-ros that crowded the cramped dark club.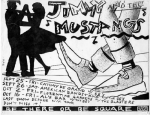 9/25/81
Jimmy & the Mustangs, 88's
Cathay de Grande, Hollywood
$6
The downstairs bar at Cathay de Grande was packed with big city punkabillies; a room full of towering pompadour hairdoos, cigarette smoke, and girls wearing cocktail dresses or cowgirl clothes.

The 88's and Jimmy & the Mustangs were both great performers, featuring impressive guitar-work and a tight, well rehearsed set. But they were carbon copies of each other; they both had the exact same look and sound, and they even covered a lot of the same old rockabilly songs. The only difference was that the 88's were fronted by a guy who sang and played stand-up base (ala Stray Cats), and the Mustangs were fronted by Jimmy, a chunky blonde kid who did a great Elvis impersonation.
Late 1981
The Nu-Beams
Ichabod's, Fullerton
$4
Once again, I missed the warm-up band. The Nu-Beams were one of the original Fullerton punk/new wave bands. I saw them play dozens of times, at parties, the college pub and local punk venues like Ichabod's. They were a bunch of former art students, who had been around way before other Fullerton bands such as Social Distortion or D.I., but had never made much of an impact outside of their small but loyal cadre of fans.

Although they put on an extremely entertaining show, it was kind of easy to understand why their appeal was so limited. Their sound was a mix of punk, DEVO, and Frank Zappa; semi-jazzy fuzzy guitars, occasionally backed by a keyboard or synthesizer. Many of their songs seemed to be about toasters and other kitchen appliances, and their leader T. L. Ary, played a guitar with a blender attached to it.
Late 1981
The Cramps
Ichabod's, Fullerton
$6
This time I can't remember if there was a warm up band or not. Before the show, my friends and I hung-out at my girl-friend's apartment around the corner from Ichabod's, drinking way too many cold foamy beverages. On the way over to the club, I practically brained myself while taking a shortcut through a hole in the concrete block wall that separated the apartment building from the shopping center parking lot where Ichabod's stood.

The club was packed way beyond capacity, I had never seen it so crowded. It was difficult to move, let alone breath, see or hear the band. The Cramps cranked out bitchen tune after bitchen tune, but seemed constrained by the large number of punks overflowing onto the tiny stage. There wasn't enough room for Lux to stalk back and forth on the stage, or flop around on the ground like he usually did. Poison Ivy was content to stand in one spot and churn out rockabilly / surf / garage licks, using a succession of weird vintage guitars.
To Be Continued ...
Part 1: Introduction, 1979
Part 2: 1980 & 1981
Part 3: 1982
Part 4: 1982 (continued)