Part 3, 1982

Southern California punk continued to mutate and split into different musical directions. Some people were saying punk was dead, others were swearing it would never die. The late 70's rock genre that originally just meant loud fast guitars and purple hair, now meant a bunch of different things.

In L.A. and Orange County, punk subcultures were evolving. Some mixed punk with reggae and ska. Others were influenced by english post-punk music like new romantic and gloom rock. Rockabilly also entered the mix. L.A. had a decades old rockabilly scene, and veterans of that scene like Ray Campi and Johnny Legend were suddenly doing gigs with younger, Stray Cats influenced punkabilly bands.

Even Hard Core punk seemed to be a subculture of the original punk movement. By 1982, few of the founding L.A. punk bands were still playing regular gigs, and a new generation of bands were defining what was punk. Younger bands were creating a new more aggressive sound that eventually evolved into what most people would call hard core punk today. As veterans from the original generation of L.A. punk dropped out of the scene, new bands like Social Distortion, the Vandals and D.I. formed to fill the gaps that were left.

Many favorite old clubs like the Cuckoo's Nest were closing, and new clubs were opening to take their place. Some were legitimate, bar-with-a-stage type clubs, while others were darker semi-underground clubs that sprouted up in roller rinks and industrial spaces, usually without liquor licenses or the good grace of the local authorities.



Early 1982
The Plugz, The Brat
Radio City, Buena Park
$6
Radio City was the ghost of the recently expired Cuckoo's Nest.

For almost three years, the Cuckoo's nest had been Orange County's most important and fun local punk club. It had hosted scores of great bands like the Damned, X, and the Weirdos. The HB/Surf punk scene created by bands like the Crowd, TSOL and Rhino 39, had been centered around gigs at the nest.

The Cuckoo's Nest was located in a big, musty, old tin building in Costa Mesa, near Newport Beach. It was basically an oversized quonset hut with a stage at one end and a bar and a pool table at the other. The Nest's neighbor was a cowboy steak house called "Zubie's"; this assured many entertaining drunken brawls between punks and cowboys in the parking lot that the two clubs shared.

But by 1982, the poor old Nest had been closed down; its owner, Jerry Roach, had finally given in to constant police pressure and high insurance costs, and called it quits.

A month or two later, Roach opened Radio City in Buena Park, in a strip mall with two other clubs "French Quarter" (a really cheesey disco bar), and a big hair rock and roll club who's name I can't remember. Radio City had kind of an arty, neo-wave decor and was a much nicer place than the smelly old Nest, but for some reason it just wasn't as fun.

The Brat was a latino pop-punk band that the local music press had nicknamed "Brown Blondie". They had a good-lookin' latina lead vocalist who sounded a lot like Debbie Harry. They also played keyboard driven pop-punk like Blondie, but with more of a 60's Tex-Mex flavor, like ? and the Mysterians or Sir Douglas Quintet.

The Plugz's sound had evolved a lot since the last time I had seen them. They added a keyboard player, and slowed down the pace a little bit.

By 1982, the Plugz were one of the few bands from the early L.A. punk scene who were still playing lots of gigs. In first few months of that year, I saw the Plugz a total of three times. In fact, I had also seen them at Ichabod's on the weekend before this gig, but I left that out because I wanted to write about Radio City.
Early 1982
FEAR, Shattered Faith, SINS
Mr. Buffo's (at Galaxy Roller Rink), Fullerton
$5
This was the first punk gig at Fullerton's Galaxy Roller Rink. For the first night, they called the place "Mr. Buffo's"; "buffo" being a marine corp slang term for sodomy.

The Galaxy was the perfect place for noisy punk gigs ... there were no neighbors to bother. It was a Roller Rink, located in a deserted industrial / commercial section of west Fullerton, with no homes or police stations around for blocks. It had a huge wooden floor (a roller rink), with a shaky looking plywood stage that rose about six feet above the dance floor.


The Galaxy was a vintage, late 50's roller rink. It was a huge dimly lit room, with lots of mirrors and shredded foil streamers all around the walls, and a "Galaxy" of six or seven mirror balls, spinning high above the center of the rink.

Like other fly-by-night punk clubs of the era, they didn't have a liquor license. The only drink that the snack bar served was called a Zemi; a semi-frozen, non-alcoholic, Gatorade-like sports drink, that came in several fruity flavors. Fortunately, it was always easy to sneak in a bottle in a boot or a purse. As a result, most of the punks and punkettes milling around the dance floor were drinking custom made cocktails like Vodka and Grape Zemi, or Sloe Gin and Cherry Zemi, or the ever-popular Jack Daniel's with a Strawberry Zemi chaser.

SINS opened the show. They were a nondescript group of spikey-haired high-schoolers, that played fast, aggressive slam punk. SINS lacked a lot in the talent department, but almost made up for it with their high level of enthusiasm.

Shattered Faith was another product of the HB punk scene. They shared some of the same characteristics of other HB bands like the Crowd or TSOL; loud, fast and aggressive, but there was something missing. Although the band played their hearts out, their music was predictable and boring. On this particular evening, I thought their show was reasonably entertaining. But I saw them many other times, and each time that I saw them, I liked them less.

FEAR put on one of the best performances that I've ever seen. They hammered out songs with well rehearsed precision, and Lee Ving was in top form too. Between songs, he spewed a constant stream of insults at the small audience, alternately pissing them off and cracking them up. Ving worked the crowd with the confidence of a Vegas casino comedian, it's no wonder that he later wound up playing wise-asses and bad guys in movies like Flashdance and Streets of Fire.
Summer 1982
Ray Campi, The Red Devils
Radio City, Buena Park
$6
The Red Devils were a so cal punkabilly band; as I recall they were from San Diego (correct me). They had an extremely talented lead singer named Emmy Lee who had short, bobbed, black hair and a smile with way too many teeth. Her singing style was similar to Wanda Jackson, she could belt out both rockabilly and more traditional country western like a pro. Her back up band was pretty good too.

Ray Campi had been playing rockabilly in L.A. for years. He played a slower, folksier version of rockabilly, but could also really rock.

Campi was a smiley, wild-eyed middle aged dude with slicked back greying hair. He wore big, fancy, white cowboy boots and rocked out on a white stand-up base. At strategic moments in the show, he would leap up onto the cut-out portion of the base, and kind of balance perched on top of the base while making goofy faces at the audience.
Summer 1982
Ronnie Mack and the Black Slacks, Levi Dexter and the Tribe
Radio City, Buena Park
$6
Levi Dexter was an english guy who had come to the U.S. in the late 70's. While he was still in his teens, he had played at the legendary "Louisiana Hayride", the southern rockabilly / country festival where Elvis had first seen wide public acceptance. Levi was a talented singer and performer, and always put on a great show, but he only recorded a few records and has been largely forgotten today.

Ronnie Mack was another old-time L.A. rockabilly guy. He played a more jumpy style of rockabilly, and was a pretty decent guitar player; demonstrating his skill with lots of fancy song introductions and solos.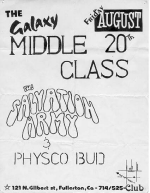 8/20/82
Middle Class, Salvation Army, Psycho Bud
Galaxy Roller Rink, Fullerton
$6
Psycho Bud was from Huntington Beach, birthplace of HB/surf punk bands like the Crowd and T.S.O.L.. HB punk usually meant loud, fast, nihilistic two minute explosions; Psycho Bud was definitely punk derived, but they had a creepy, medium tempo, synthesizer backed sound that was heavily influenced by english new-romantic music. They were competent musicians and pretty good song writers too; I had never heard them before, but I wound up with a couple of their tunes stuck in my head.

Salvation Army played light, bouncy pop-punk, with keyboard background. They had a pile of great, original songs, and a sound and style that was almost monkee-esque. They were young and puppy-dog-like, and all the punkettes seemed to swoon over them. After releasing their first album, they had a minor local hit on an L.A. punk station. Unfortunately, the real Salvation Army took notice and sued them, and they had to change their name to "The Three O'Clock".

The Middle Class had been the first Orange County punk band to release a single. By 1982, their sound had evolved from high speed, three chord punk, to pulsating, psychedelic post-punk. The echoey acoustics of the Galaxy Roller Rink were a perfect match with the Middle Class' echoey, middle-eastern drone. While the Middle Class sweated out a great set on the high, shaky plywood stage, a slam pit swirled on the roller rink floor below.
8/30/82
R.E.M., Untouchables
Ichabod's, Fullerton
$6
The Untouchables opened the show, with a set of late seventies style ska. They looked and sounded a lot like the early Specials; a black and white band, with a horn section, keyboard, and a singer who never stopped skanking. They put on an entertaining show; they had a good selection of original material, and played several interesting covers of 60's ska tunes.

R.E.M.? Yes, that R.E.M., playing on Ichabod's one-foot-high stage. It's hard to believe now, but in 1982, these arena rockers were a relatively unknown, east-coast band, touring from state to state, trying to get noticed.

They had just released their first four song EP, and the critics already loved them. The crowd at Ichabod's was relatively small that night, there were less than a hundred people in the club. I was really impressed with R.E.M.'s performance, but had no idea that they would someday be international mega stars. They were good, but I had seen plenty of other bands that I thought were more talented and creative.

R.E.M. played a satisfying set that included the four songs from their first vinyl release. Michael Stipe had an unusual stage presence; he hid behind his unfashionably long hair, rarely looking directly at the audience, and his mumbling singing style rendered most song lyrics indecipherable.
9/10/82
45 Grave, Twisted Roots, Dream Syndicate
Galaxy Roller Rink, Fullerton
$6
This was a funny combination of bands, because over the years all three bands traded musicians back and forth.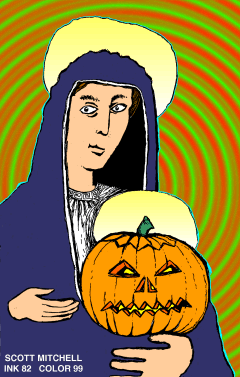 Dream Syndicate opened the show. At this point in their career, their music was difficult to categorize; it wasn't really punk although they had played alongside other punk bands for years. It was closer to standard rock and roll with a slightly dark edge and faint country-western come Rolling Stones influence. Paul Cutler, the guitarist from 45 Grave, later joined Dream Syndicate after 45 Grave disbanded years later.

Twisted Roots were longtime L.A. scenemakers. They weren't part of the original generation of L.A. bands, but they were pretty close. Twisted Roots played creepy keyboard flavored pop-punk, like a dirty, spooky reggae version of the B52's. Paul Roessler played keyboards and sang; he had been in 45 Grave before, during, and after Twisted Roots.

45 Grave were also veterans of the original L.A. punk scene. They were fronted by singer Dinah Cancer, a tall willowy blonde who looked like she just escaped from a mortuary. In fact, the whole band looked like they had just crawled out of the graveyard; dusty dark clothes, pale white complexion, and dark make-up around their eyes. They played a great set that included both loud, high speed, screaming blood and death rants, and slow gloomy marches. Drummer, Don Bolles was a survivor of L.A.'s legendary Germs.
9/17/82
Middle Class, Legal Weapon, Lucky Strike, Din
Galaxy Roller Rink, Fullerton
$6
I only heard the last two songs of Din's set, I got there late. Din played atonal punk with a saxophone, they sounded a little bit like the 70's english punk band "The Fall".

Lucky Strike was Mike Soto's post-Adolescents band. The band was really young, a couple of them looked like they were about fifteen, but they could grind out spirited, angry punk none the less.

Legal Weapon put on the best show of the evening. Lead singer Kate Aurthur was a great performer, she wrote some great songs, and had a voice that sounded like a cross between Poly Styrene and Grace Slick. Her back-up band were finely honed rock and roll professionals. Legal Weapon was so good, they seemed out of place at a dump like the Galaxy.

Middle Class put on another entertaining show, but they played basically the same set as the last time I saw them.
9/18/82
T.S.O.L., D.I., The Vandals
Galaxy Roller Rink, Fullerton
$6
This show generated the biggest crowd that I ever saw at the Galaxy Roller Rink.

The Vandals were a brand new HB Punk band in 1982, they didn't even have a single out yet. Today, the Vandals are still around, but they are a mere ghost of the great band that they were in the early 80's.

In order to put together a great band, three things are required; 1) Good Songwriter, 2) Good Guitarist, and 3) An Entertaining A-Hole (i.e. a charismatic goofball, usually the singer, who screams and jumps around like he has a cactus up his arse). The early Vandals had the first two, and a double dose of the third; singer Stevo and bassist Human were two of the most Entertaining A-Holes that I have ever witnessed in action. Both of them were completely out of control; Stevo's Surfin'-Iggy routine ranked right up there with Lee Ving, in the psychopath lead singer department, and Human thrashed around and off the stage with Sid Vicious-like abandon that usually left him bloodied and bruised..

In true punk spirit, Stevo and Human's on-stage antics weren't an act; they practiced genuine vandalism whenever possible, and couldn't seem to stay out of trouble. Both of them were eventually kicked out of the band. The Vandals have continued without them for over 15 years, but without Stevo and/or Human. the Vandals just aren't the Vandals.

D.I. was also a brand new band in 1982, part of the second wave of Fullerton Punk bands; they too are still around today. The band was (and still is) fronted by singer/guitarist Casey Royer, who was a veteran of both the Adolescents and Social Distortion. They put on a great show, including their hit "I Like Guns (and Guns Like Me)".

T.S.O.L. (True Sounds of Liberty) were a tremendously popular HB punk band, who had a huge local following and several vinyl releases. They had a loud, fast, dark, self-destructive yet poetic sound, fronted by wildman/singer Jack Greggors. During their set, their rabid followers kept climbing onto the high plywood stage, one after another, to take lemming-like dives into the furious slam pit on the wooden dance floor six feet below.

Needless to say, this was a very entertaining show; with the exception of a blown fuse in the middle of the set, which blacked out the entire roller rink.

At the end of the gig, the lights went on, and we all filed out of the roller rink. When we came out to the parking lot, there were about eight Fullerton and Buena Park police cars, parked in front of the Galaxy on both sides of the street. There were no incidents or arrests, but the police just sat there, glaring at us like they expected trouble.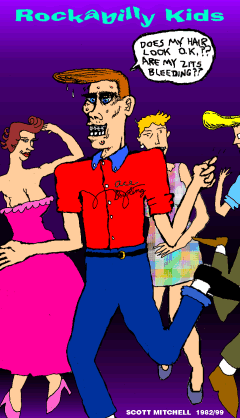 10/2/82
Kingbees, Road Runners, Vectors
Galaxy Roller Rink, Fullerton
$6
This was supposed to be a Black Flag Gig!!!! But the Fullerton police got wind of it, and told the Galaxy that if Black Flag played, they would shut them down forever. At the last minute, the Galaxy rescheduled three rockabilly bands, and spread the word at the local high schools.

There were fifty or sixty punks, who hadn't heard about Black Flag being cancelled, and showed up anyway, and about a hundred high school kids, spiffed out "Happy Days" style, with slicked back hair, letterman's jackets, monogrammed bowling shirts, and poodle dresses.

It was a revolting spectacle; these kids were actually walking around and giving each other the Fonzie-style, double thumbs up "`Aayaaay!!". What was supposed to have been an evening of mindless self-destruction, had been turned into a high-school drama department production of "Grease". At one point during the evening, they did a dance where all the girls lined up on one side of the roller rink, and the boys lined up on the other. There were two long lines of dancers, segregated by gender.

The Vectors and The Roadrunners were equally horrible. Both bands played many of the old same Chuck Berry retreads, like "School Days". "Roll Over Beethoven" and "My Ding-a-ling", but had no original songs. Both bands were also horrible musicians, they had lots of expensive equipment, but not a clue what to do with it.

The Kingbees had been around for quite a while, they had several hits on local L.A. "Alternative" pop radio, and had released several albums. I couldn't stand them. Where the Stray Cats presented a dirty, dangerous version of 50's/rockabilly, the Kingbees were squeaky clean and sugary sweet.

In every respect, this was an extremely dismal evening. The few Galaxy punk regulars who bothered to actually go inside, hung together in the corner throughout the show, and shook their heads in disbelief.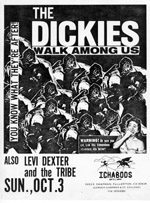 10/3/82
The Dickies, Levi Dexter & the Tribe, Clint Howard & the Kempsters
Ichabod's, Fullerton
$6
Even though Ichabod's always smelled like twenty years of cigarette smoke and spilled bear, it was great to be there after the rockabilly high school gig the night before.

Clint Howard and the Kempsters opened the show. Clint Howard had been a child actor on TV in the sixties; he was the ugly little kid with the spot on his face in the TV series "Gentle Ben". But by the time he was in his teens, his acting career was over. To make matters worse, his brother Ron Howard, had managed an ultra-successful transition from child TV star (Opie from Andy Griffith Show) to teen TV star (Richie from Happy Days) to adult director (Cocoon).

Clint was a fat, balding, guy in his late twenties, who didn't look punk at all, but he did a capable job of rant/singing, and his back up band, the Kempsters was top notch. But I think that this may have been the only gig that they ever played.

Levi Dexter and the Tribe were next. Although Levi's previous band, the Rockcats, had played more traditional rockabilly, the Tribe played full tilt psychobilly. Levi was decked out voodoo style; hair full of feathers, and a chicken bone necklace. The music was creepier, dirtier, and angrier than before. It looked like Levi had learned a lesson from the Cramps.

The Dickies had also changed since the last time I saw them. After the death of legendary keyboard player Chuck Wagon, many of the original members had left the band. Singer Leonard Phillips and guitarist Stan Lee were the only ones left from the old band.

The Dickies put on a great show that included both old and new tunes, and Leonard continued to bait the audience between songs with dumb jokes, rude comments, and a penis puppet named "Stewart". But without Chuck Wagon, they seemed to have lost their chaotic, edgy spirit.
10/8/82
Psycho Bud
Some Rich Kid's Party, Huntington Beach
$2 at the door (or free if you climbed over the fence)
This was another evening that I'll never forget; I think that it was the last time that I actually slugged someone in the face. But that's Another Story.

Psycho Bud was set up next to the swimming pool at the very large, luxurious house where the birthday party was being held. The party was packed, it seemed like every punk in Orange County was there. There were about three hundred punks crammed into the rich kid's back yard.

After Psycho Bud had played about three songs, the cops arrived; lots of cops, maybe twelve patrol cars to break up the party and arrest a dozen or so uncooperative punks.

I've been to lots of parties with live punk bands, just about every one has ended the same way, with a street full of police cars and major property damage.
10/22/82
The Dickies, D.I., Confederate, Circles & Squares
The Galaxy, Fullerton
$7.50
After a solid month of rockabilly shows, the Galaxy finally started hosting punk acts again.

I think that Circles & Squares must have been thrown in as a joke; they were long hairs who played Led Zeppelin covers. The punk audience hated the band and showed it by showering them with garbage and spit.

Confederate put on a great show, loud fast punk that inspired a furious slam pit. They had hoards of loyal followers, and played lots of gigs, but never released a record.

D.I. was another one of my favorite bands, they had some great songs and always put on an entertaining show. Over the years, singer Casey Royer has come up with a lot of different explanations for what the letters D.I. stand for; "Disruptive Influence", "Drug Ideology", and many others. At this gig Casey said it stood for "Dead Indian", which I think must have been an inside joke about local punk legend Richard Reyes (not the serial killer), who was also the subject of D.I.'s hit "Richard Hung Himself".

The Dickies put on a lot better show than their previous gig at Ichabod's. The band seemed to be more used to playing together, and they did a great job of whipping the audience into a frenzy. In fact, things got so wild, that somehow one of the Galaxy's famous mirror balls got smashed by a flying bottle.

When the lights came on at the end of the show, I was standing in the middle of the dance floor talking to some friends. I noticed a piece of the smashed mirror ball lying on the floor, bent down, picked it up and put it in my pocket. For some stupid reason, I still have that piece of smashed mirror ball over seventeen years later.
To Be Continued ...
Part 1: Introduction, 1979
Part 2: 1980 & 1981
Part 3: 1982
Part 4: 1982 (continued)